The Building of the Bushwacker Race Car - A Complete History
The following is a chronology of changes that I've made to the car to convert it from a cool street car, to a very competitive, GT Class race car.
Phase 0 - Buy the basic car!
After searching for a starting car for months, I finally found a good 1979 911sc with 160,000 miles on December 14th, 1997 in http://www.classifieds2000.com. It was listed as "good condition, $8900".
The first sighting in the seller's garage. Let me write the
check right now. Don't you want to drive it, he asks? Nope.
Well it needed a ton of work including new master cylinder, brakes, rotors, & a new tranny, but hey, I was going to replace all that stuff anyway. After a complete mechanical inspection and a few negotiating sessions with the seller, we settled on a price of $7,700. A bargain some might think, but after you figure how much money needs to go into it, getting a good price on the basic car is an absolute must! Heck, by the time you're done, you'll have a good $30-40K in the car, depending on how crazy you get. And yes, I got a bargain. In 1997, a car like this in good condition was commanding about $12,000-14,000 depending on the condition.
Not a bad looking car to start off with. It had been repainted once and all the mods
that the motor needed to bring it up to reliable condition had been done.
Click here for Phase 1 Mods (Jan 1998)

Suspension
Transmission
Brakes
Wheels/Tires
Seats
Safety Equipment

Follow the link above for a detailed list of all the work that went into this phase. After it was all done, I drove the GGR Time Trial at Sears Point (6 laps total & no times because of rain).
Number 309 at Tech Inspection at Sears Point Raceway
Click here for Phase 2 Mods (May 1998)

Car Trailer
Weight savings
Roll Bar
Strut Bracing
After completing all of this work, I drove Laguna w/ the NASA club and then the GGR Time Trials at Laguna Seca twice (1:52), Buttonwillow (no time, rain), and Thunderhill Raceway (2:15). Click here to see more detail on this phase.
Screaming around Turn 4 w/ the NASA club. I'd just passed all those Datsun
510's, GTI's and Volvo station wagons - Get outta my way!:)

Click here for Phase 3 Mods (July 1998)
Next event is Sears Point with the NASA club on Aug 15th. I ordered all the body panels from Hank at www.gt-racing.com - I even installed most of them! Amazing quality - my bodyshop guy couldn't believe I didnt sand or finish them. Its going to be a 911 RSR style body (front fenders, rear quarters, front hood, dashboard), with a Carerra style wing & front mounted oil cooler all manufactured out of Carbon Fiber. Cool! Also, with all the hot weather here in California, I'll need a front mounted oil cooler to cool those 15 quarts of oil in the beast! Click here to see more detail on this phase.

Click here for Phase 4 Mods (September 1998)
7/1/98 - I just bought a brand new 993 motor with 554 miles on it for $6500 on July 1st, 1998. Its missing the brain and the wiring harness (destroyed in the crash), has a broken distributor housing and no air cleaner but other than that, it's complete and guaranteed for 30 days, in writing. It should be ready to roll by September. Where'd I get it? Well, you should subscribe to www.porschelist.org so you can find these deals too! Lots of decisions to make now on injection/engine management systems. It will either be stock if I can find a stock brain & harness or Motec if the price differential isn't that big.. Click here to see more detail on this phase.

Click here for Phase 5 Mods (March 1999)

The paint phase is one of my favorites. I love to transform things from one state into another. Kinda like doing web pages - you start with something completely blank and end up with something like this :) Click here to see more detail on this phase along with the sources of the graphics and costs.

Phase 6 Mods (June 1999)
Phase 6 - Install the Motor in the car

After a couple of false starts at actually getting the motor installed in the car, we ended up with a body shell, core engine and 4 boxes of parts being delivered to Jerry Woods in Campbell CA. The end result? 292hp of pure pleasure and a sense that you are in a rocket ship at the launch pad. The first event at Laguna Seca last weekend (June 11-13) and pulled a 1:46.009. Update 12/17/99 times at Laguna are down to 1:41:00 !!. New coil-over shocks in the rear and 24mm front torsion bars made a huge difference.

Phase 7 Mods (June 1999)
Phase 7 - Fuel System from FuelSafe, Roll Cage Installation, Sparco Seats


Phase 8 - The Motorcoach (July 1999)

What's racing if you don't have the hot setup? This is the only way to go - a 40 foot Country Coach motor home. It's bigger that some apartments. At one party, we had 35 people jammed in it at 3am. This of course included the person lying on the bathroom floor....

Phase 9- The 2001 Season (Jan 2001)

| | |
| --- | --- |
| Before | After. Pretty dramatic! |

Its been a busy winter. Here's a list of a few things I done:

New 934.5 body kit w/ sideskirts (my design & custom fabracation)
2 New sets of 18" Fikse whls - 11" front, 12" rear
11.5x18 & 12x18 Goodyear Racing Slicks
Protrack triple adjustable shocks all the way around
ERP 935 F&R complete suspension, lowering the car 4 inches overall
Turbo Trailing arms in rear
Camber boxes in front & rear
McKenzie axles and CV joints
Autometer Tachometer
Custom C2 DME chip w/ RPM set at 7200 RPM
Lightweight battery (12 lbs)
Tilton dual master cylinders
Fabcar 72" aluminium wing
Safety Devices Fire Halon System
FreshAir Systems driver cooling unit

About 400 hours of labor on all the above.

Phase 10- The 2002 Season (Jan 2002)

After this little incident at the 2001 Laguna Seca SCCA Vintage with a certain BMW who wasn't paying attention to what was going on in front of him, I decided to completely strip and repaint the car from the ground up.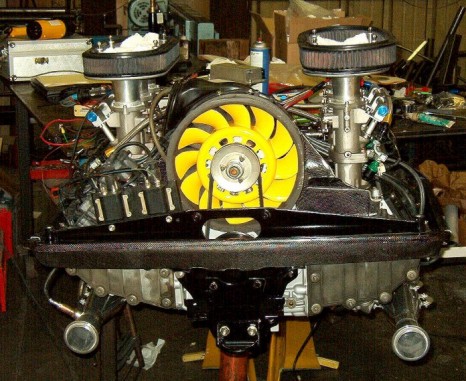 The end of 2002 went out w/ a bang. Literally. During the Laguna Seca PCA National Club race, I was coming thru the corkscrew and heard a loud bang, followed by tons of smoke in the cockpit. The race was over, but now was the chance to build a radical new motor. The old engine had over 200 hours of use on it and was just a tad tired.

Time for a complete engine rebuild. Boyd's Enterprises did all the work on the new engine and it's running strong. So, here we go again. For 2003, improvements include:
New 3.4L, 340hp full-race Motor
SCARGO Racing Headers
AIM EVO 16 channel data acquistion system
4 Gallon oil tank
Transmission cooler
22 gallon fuel cell
Follow this link for a story on how we designed the motor, chose components and had all the work done, all well within budget (amazing) and on-time (even more amazing).

Follow this link for the Dyno Results of the 3.4L motor.